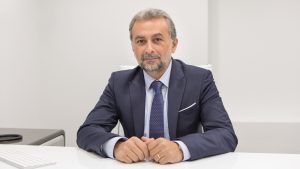 Dr. Stavros Tombris MD, PhD, DDS is a graduate of Democritus University Medical School and the Aristotle University Dental School.
He graduated from the Hellenic Armed Forces Corps Officers School, as an active duty officer of the Hellenic Navy (1991).
Dr. Stavros Tombris was trained in Oral and Maxillofacial Surgery at Tufts University, Boston MA (1997-2001).
He also served as a surgical consultant at the Hemangiomas and Vascular Malformations Clinic (Director Prof. Martin Mihm) at Massachusetts General Hospital, Harvard University Medical School (1998-2001).
In 2002 he continued his training on vascular lesions of the face, at the Arkansas Children's Hospital with Prof.  Milton Waner.
Returning to Greece, he served as the Director of the Oral and Maxillofacial Surgery Department at Athens Naval Hospital (2008-2011).
Since 2005, he is the Director of the Oral and Maxillofacial Surgery Department at Athens Euroclinic Hospital and Children's Euroclinic Hospital.
Being actively involved in the treatment of vascular lesions of the face, Dr. Tombris was invited as a lecturer in many national and international conferences.
Dr. Tombris has offered his help in organizing vascular malformation clinics in other countries.
He is a member of the medical board of the Vascular Birthmark Foundation –Europe.
Currently, he serves as an affiliated expert to the Vascular Birthmark Institute at the Lenox Hill Hospital in New York and the Zentrum für Vasculäre Malformation at the Werner Forßmann Hospital in Eberswalde, Germany.
He holds a Ph.D. in Medicine awarded from the Democritus University Medical School (2009).
---