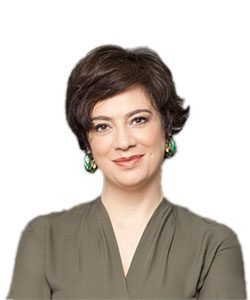 Dr. Marita Kosmadaki
Dermatologist – Venereologist
Visiting Lecturer in Dermatology Boston University, USA
Dermatologist – Venereologist Marita Kosmadaki, after clinical and research training at the University of Crete, completed a three-year post-doctoral program at Boston University, USA. The emphasis was on the molecular study of aging pathways as well as on the effect of ultraviolet radiation on the skin. During the same period, he was a member of the vascular malformation group at Massachusetts General Hospital, Harvard Medical School, USA. After supporting her doctoral thesis and obtaining a specialty degree, she works in Athens. From 2005 to 2017 he worked as a Scientific Associate and Academic Fellow at the Andreas Syngros Hospital. In 2007 she became a visiting lecturer in dermatology at Boston University, USA.
In 2011 she co-founded "Athens Dermoiatriki" clinic.
Dr. Kosmodaki is a member of many Greek and international associations of dermatology where she regularly participates as a speaker at their meetings. She has published many original research and review articles in international dermatological journals and has written chapters in dermatological books. Research interests concern skin aging, photosensitivity disorders and psoriasis.
---